David Mellor 4 Days Supercamp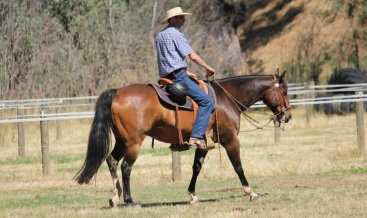 Duration: 4 Days (approx.)
Location: Howlong, NSW
Product code: PSMPRK
Do you want to ride and work towards achieving the next level of horsemanship in the most beautiful setting then this Supercamp is for you. Learning, developing but most of all, enjoying working with your horse against the backdrop of the Murray River and the majesty of the gums that line its banks makes this clinic so very special.
Participating in these learning experiences and guided by the David's expert advice will help you build a better relationship with your horse. It's about understanding and developing a shared language and building true communication and connection. It concentrates on building your confidence, helping you to become a more confident horse(wo)men.
Every day, you will participate in activities which will build your own and your horse's confidence in new environments and in a group of horses. It will teach you and your horse to be soft, relaxed and at ease with each other in a working or other environment.
Riding out on the trail every day and even meeting some cows, will give you and your horse a real boost of confidence and most important of all, it will be a lot of fun!